About Us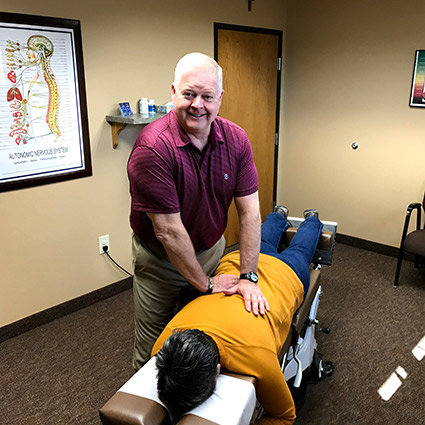 Dr. David Hoganson attended chiropractic college in his home state, graduating from Northwestern Health Sciences University (formerly Northwestern College of Chiropractic) in Bloomington, Minnesota. He and his wife, Deb, traveled all over the state to try to find their new home. They chose Marshall because of its rural setting, which felt much like returning home to Dr. Dave.
Let Our Family Take Care of Yours
There is no problem too big or too small for us. No matter what your concern is, we'll listen carefully to you and guide you to where we think we need to go. If your case is not a chiropractic one, we'll refer you to the appropriate specialist.
We truly care about you, your lifestyle and your loved ones. In our family-oriented, down-to-earth environment, your entire family will feel at home. Dr. Dave has a particular soft spot for his pediatric patients, who he calls "little peanuts." With children of his own and six grandchildren, he understands the trust you place in a doctor when you choose them for your child's health care provider. He feels privileged to earn that trust and take care of you and your family.
Our Faith-Based Foundation
God guides us in all we do. Christian music plays when you walk in our office. Though Dr. Dave loves and serves patients no matter what their beliefs are, he asks God for help with every person who comes through our door. You'll see a sign hanging in our reception that says, "You will be blessed when you come in and blessed when you go out." It's our hope and prayer that we are a blessing to you!
The Remarkable Results of Chiropractic Might Surprise You
We've seen many people who have chronic cases and thought there was nothing that could be done for them. One gentleman's body and head were permanently tipped to the side, and he walked with a limp. Over the course of years, chiropractors and doctors alike told him he'd have to live with this condition. Dr. Dave said, "We can change that." Sure enough, the man is now walking, running and has a new life ahead of him.
Another man was referred to Dr. Dave by a fellow chiropractor. When the man walked in the door, his leg was dragging behind him, and the doctors said there was nothing to be done. Dr. Dave, confident in the body's natural healing abilities, said, "Let's see about that." With adjustments, spinal decompression therapy and home care, the man is walking normally again.
MEET DR. DAVE HOGANSON »
Get Started Today
We welcome you to call or email our chiropractic office now and book your first appointment! We'll submit to your insurance and make sure you have the documentation needed to get reimbursed.

About Hoganson Chiropractic Center | (507) 537-0307