Cold Laser Therapy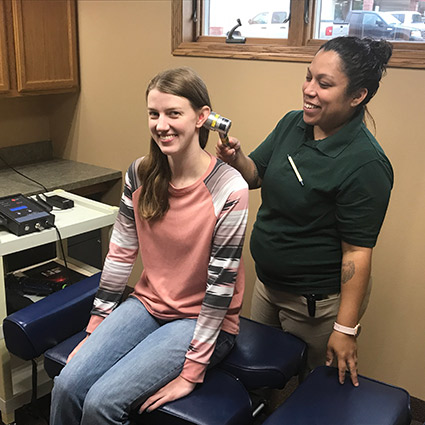 If you have damaged tissues in your body, cold laser therapy can be the ideal way to speed up your healing process. Available at Hoganson Chiropractic Center, our Apollo cold laser can't be found anywhere else in the area. We've been using it for years since it was approved for use in the U.S. and have the experience and expertise to know how best to help you with this advanced technology.
How It Works
Our therapeutic cold laser produces a range of benefits in your body. It helps the cell walls close up and repolarize so they can return to a neutral charge. When in a neutral state, the cell can heal without drawing any swelling to the area. When the area is free from swelling, the blood can circulate to start the healing process.
Great for Extremities and Sports Injuries
There is a broad range of conditions and ailments that can be addressed with cold laser therapy. Some of the most common include
Shoulder pain
Sports injuries
Athletes enjoy that cold laser therapy can help their damaged tissues heal faster, letting them compete again at a high level. An injury that might take two weeks to heal can be reduced to as little as a couple of days. The healing is increased by 20-60% with cold laser therapy.
Book Your Appointment
Contact our team today to schedule your consultation for laser therapy! We have same-day visits available.
CONTACT US »

Cold Laser Therapy in Marshall MN | (507) 537-0307