Pregnancy Chiropractic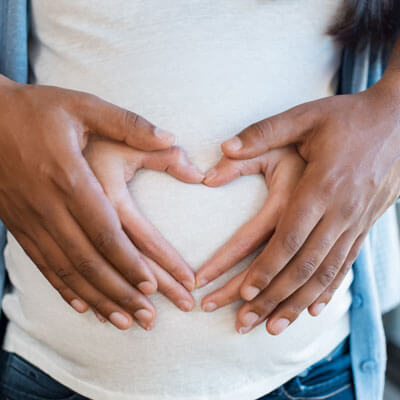 When you're expecting, everything you do affects your baby inside of you. Your body's nerves are responsible for sending all the impulses throughout your body that make everything function—including the growth and development of your baby. By ensuring your nerve system is healthy, you're doing all you can to make sure your baby is healthy, too.
Also, while pregnant, natural muscle relaxing hormones and change in posture make it more likely your spine will become misaligned, causing discomfort and pain.
An Easier Pregnancy and Birth
When your spine is aligned and every joint in your body is working as it should, your pregnancy can be more comfortable. The delivery process can also be enhanced with chiropractic. Women stop by our office on the way to the hospital to get adjusted because they feel it makes their labor and birth easier. On their way home, they'll stop by again for themselves and to have their baby checked.
Through each stage of your pregnancy and postpartum journey, we'll be here to provide the care and support you need. Dr. Dave's wife, Deb, had difficulty breastfeeding her first child, who was unable to turn to one side. After being adjusted, their daughter could breastfeed normally again. We understand what it's like to be new parents and will strive to provide you with guidance and encouragement.
If you're having concerns about infertility, a combination of chiropractic and our nutrition services may be able to help you conceive. Pregnant women will also receive guidance from us about prenatal nutrition and any supplements they can take. Our products include Progressive Labs and Nutrition Dynamics prenatal vitamins.
Our adjusting tables are built with a drop piece in the middle that falls away to accommodate your growing belly. Before your adjustment, you'll have hot packs applied to your back to loosen you up and relax you. Then, Dr. Dave will adjust you. He has various techniques he can use as appropriate for you.
Contact Us Today
If you're curious about what chiropractic can do for you, call now to book your free consultation! Our team will get you scheduled for a consultation for pregnancy Marshall with Dr. Dave. Same-day visits are available, and we're open late.
CONTACT US »

Pregnancy Chiropractor in Marshall MN | (507) 537-0307