Rehabilitation & Decompression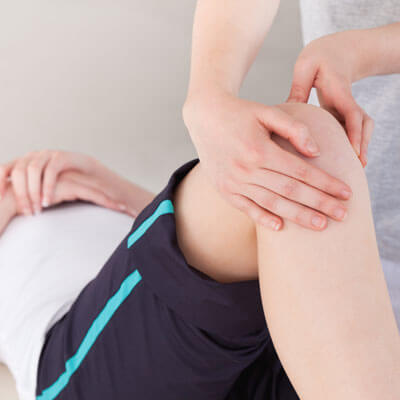 Have you been plagued with chronic problems? If you're fed up and ready to find the solution that finally works, the team at Hoganson Chiropractic Center may have something new to offer you. Our rehabilitation and decompression therapy are ideal for people who have struggled for years without getting an answer.
With these options, your body can feel young, healthy and strong again.
Dr. Dave's Spinal Decompression Experience
The first football injury Dr. Dave had was a broken vertebra in his low back. When he began spinal decompression therapy, his spine looked like that of a 70-year-old. Today? It looks like the spine of a 20-year-old. He's had his knees scoped as well, and used knee decompression to recover afterward. His knees aren't a problem anymore—he can even enjoy waterskiing regularly!
How Spinal Decompression Works
As the therapy name indicates, it decompresses your spine to remove the pressure of gravity. It's that pressure that doesn't allow your disc to receive the circulation it needs to stay healthy and vital. In removing the pressure, blood and nutrients can flow back to the affected tissues, boosting their natural healing power.
Getting Started With Spinal Decompression
At your first session, you'll arrive and speak with Dr. Dave about your history and current concerns. You'll be given a thorough examination. If we think that chiropractic can help you, we'll tell you about it and give you an adjustment. You'll watch a brief video about your spine and the effects of decompression.
You'll sit in our seated decompressed unit and be strapped in so that you feel secure. There are 16 modules we can use depending on your particular problem and what we can accomplish. You'll typically see results in about eight visits, and we recommend monthly maintenance afterward, so you won't have your problems return. Each spinal decompression therapy is $50. We offer a discount if you buy eight sessions.
Our knee decompression program can get you up, moving and doing all the things you love again. Whether the problem is in the meniscus, ligaments or tendons, decompression can get the fluid back into the area to heal up. Our unit decompresses at a rate of 20 pounds per square inch. We'll program it with the protocol that's right for your particular issue and what we want to achieve. This therapy is used in the NFL because pro athletes know it'll get them back in the game quickly.
Knee decompression is quick, taking just about five minutes. The cost is $25 per session.
If you have a problem with the discs in your low back, motion decompression may be effective for you. Our Leander table is a state-of-the-art option that decompresses vertebrae and discs in your low back. It can be done alongside your chiropractic adjustment or on its own, depending on what you will benefit most from.
Experience a gentle, light strengthening program to rehabilitate your spine. We utilize the Necksys Neck System and Backsys Back System through Foot Levelers. With Necksys, you can simply perform strengthening exercises to complement your care. Backsys addresses issues in the mid-back and low-back. If we feel you can benefit from this form of rehabilitation, we'll let you know at your initial appointment.
Learn More Today
Find out if you can benefit from rehabilitation and decompression Marshall! We're open late and have same-day appointments available.
CONTACT US »

Rehabilitation & Decompression in Marshall MN | (507) 537-0307